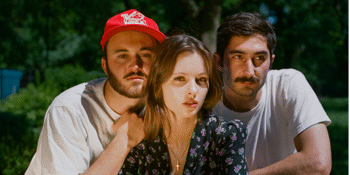 Island City Records and Select Music Presents
SAN CISCO 'Flaws' Tour
with Special Guests
Uni Bar Hobart (Sandy Bay, TAS)
Saturday, 26 June 2021 8:30 pm
San Cisco return with their brand new single 'Reasons', the first from their upcoming 'Flaws' EP due for release in March.
'Reasons' is a continuation of the indie pop signature sound the band have become known for. On the song, frontman Jordi Davieson states that it is

"...about letting the person you love know that you feel their pain and it is ok to be vulnerable. We make mistakes all the time but we can heal these fractures in our relationships with communication and trust. The sentiment is not about dismissing the pain but more about sharing it."
Following on from the genre-bending previous single 'Skin' and off the back of a run of sold out tour dates in 2019, the indie-pop trio will embark on a world tour in support of their Flaws EP with shows in Australia, UK, Europe and North America. In Australia, they play Groovin' The Moo festival and will be hitting the road for additional headline shows along the way.