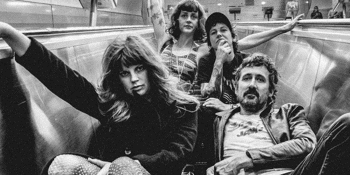 Vandemonian Presents..
Tropical Fu*k Storm
With specials guests
Uni Bar Hobart (Sandy Bay, TAS)
Saturday, 12 February 2022 8:00 pm
"Heavier, wilder, and more faithful to their evocative 'fuck storm' promise than ever before, the third full-length from the Antipodeans is an uncompromising prospect: merciless barrages of ear-splitting shreds; crunching, skin-crawling rhythms that bore into the skull's fragile surfaces; to top it all off, a lyrical parade of grimly ghoulish imagery, tackling, without censure, the psychological fall-out of the pandemic." DIY Magazine

This was supposed to be a summer banger
But it's just another bumma sanger
How you going with the cabin fever?
Are you feeling like some pain relief?

Clear your cals kids; the pain relief is nigh! Tropical Fu*k Storm are injecting some live shows deep into the veins of summer to ensure you start 2022 and your post-pandemic life right! Their rescheduled Deep States national tour is on sale today. Attention Sydney, before you freak out and ask, what about Moi? Your dates are locked and will be announced real soon.

Former Californian, now Melbournian multi-instrumentalist Michael Beach will bring his existential dread to open each show, brightening the darkest of souls.